There are many brands of Diapers in Pakistan, and choosing the best diaper in Pakistan among all of these brands could be a hectic job
So, here we are going to review the list of top 10 best baby diapers being sold in Pakistan with a brief detail about these diapers.
After going through this post you will get to know that which is best diaper for your child. You will also know the price detail of diapers on different online stores of Pakistan and also that how can you order and buy diapers from online stores.
List of Best Baby Diaper Brands in Pakistan
Our Team has researched and gathered the list of The top 10 Best diapers in Pakistan in 2023. So, Let's dive in
Pampers
Canbebe
Huggies
Molfix
Shield Diapers
Leo
Bona Papa
Care Baby Diapers
Good Care
Nana Smarty
Pampers Is the best and most sold brand of Procter and Gamble diapers. This is one of the widely available and used diaper in Pakistan.
You can easily find pamper diapers on all the online stores of pakistan including Daraz. Price of pampers in Pakistan ranges from PKR 600 to PKR 2200 depending upon the size and the quantity of diapers in the pack.
Canbebe is among the emerging brands of diapers in Pakistan. Its a product of Ontex Pakistan Private Limited, which means its a Pakistani product.
This brand markets their products under two different packages name Canbebe Dry Comfort and Canbebe Premium Comfort. Canbebe diapers are easily available on all the leading online stores of pakistan.
Canbebe price in Pakistan ranges from PKR 668 to PKR 1512 depending on size and quantity of diapers in the pack.
Huggies is an international brand of diapers imported to Pakistan. These are among the best diapers in Pakistan.
As per the information provided in the website of Huggies, their diapers are elemental chlorine free, free of natural rubber latex, fragrance-free, parabens free and EU allergens-free which makes these diapers more safe for child.
Huggies diapers are easily available on online stores of Pakistan and you can also find these on offline markets and shops in your cities.
Molfix is one of the most renowned producer of baby diapers in Pakistani market. Molfix diapers are a trusted, they produce quality products and are available throughout the country.
It manufactures various types of baby diapers, including sizes 1, 2 and 3. Molfix has a range of products for babies from newborns to toddlers. It is now being used by more than one million families in Pakistan.
Shield Diapers offers the peace of mind that your baby is being cared for with a quality, safe, and reliable diaper.
Shield Diapers are known for their high quality diapers. They have a variety of different types of diapers including cloth and disposable.
They also offer different sizes to fit any size baby. Some of the features that make Shield Diapers unique are their stretchy tabs and extra durable plastic lining which prevents leaks from ruining clothes.
BonaPapa is a popular brand in Pakistan for diapers. Their diapers are the best baby diapers in the market. These diapers have an adhesive strip on the back that really sticks to your baby's bottom and doesn't tear off when they do.
They also absorb wetness up to 10 times better than other brands. These diapers are made of high-quality fabrics and are designed with your baby's comfort in mind.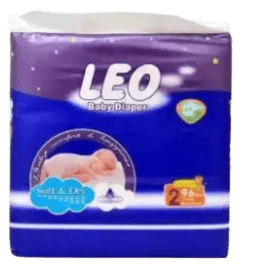 Leo Diapers is the most trusted brand in Pakistan with an extensive distribution network all over the country. Their distribution network reaches all major cities, towns and villages making it easier for customers to buy their products anywhere they go.
Leo Diapers are a revolutionary design, and a baby-friendly approach to the traditional diapers parents are used to. Leo Diapers promise high quality & comfort for your child while they wear them. Diapers are a good way to help babies in the potty training process. They'll keep them dry and free from discomfort while they go.
One of our features that make Leo Diapers different is the stretchy elastic that adapts to the baby for a custom fit. They also have snug-fitting diapers, which makes it easier for your little one to do their thing.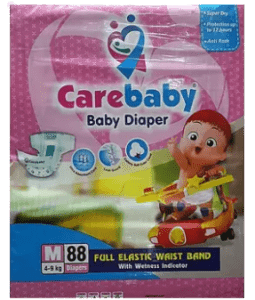 Care Baby diapers are designed to absorb more than the regular diapers and prevent leakage. They are also made of a breathable material that is soft against the skin, and they come with a unique snap for a secure fit.
Many parents choose to use Care Baby diapers because they provide enough protection for up to 12 hours without having to worry about leaking. The anti-rash features ensure that the baby's skin will not develop any irritations after using them.
Parents can feel confident in knowing that their baby will be comfortable while wearing these diapers.
Good Care is a trusted baby diaper brand available in Pakistan. They offer a range of high-quality diapers that cater to the needs of infants and toddlers.
Good Care diapers are known for their excellent absorption capacity, ensuring that the baby stays dry and comfortable throughout the day.
The brand provides diapers in various sizes, including New Born, Small, Medium, Large, X Large, XX Large, and Mega sizes, accommodating different age groups and weights.
Good Care diapers are easily available online in Pakistan through platforms like BabySavers.pk and Daraz.
These platforms offer a convenient way to order and purchase Good Care diapers, and some even provide exclusive deals and personalized recommendations for a better shopping experience.
The brand is recognized for its commitment to providing quality baby care products, making it a reliable choice for parents in Pakistan.
Nana Smarty is a popular diaper brand available in Pakistan that caters to the needs of parents who prioritize their baby's comfort and well-being.
Nana Smarty diapers are known for their quality and rash-free properties, ensuring that your baby stays comfortable and protected throughout the day.
These diapers come in different sizes, including Large for babies weighing 9-14kg.
Nana Smarty diapers can be found on various online platforms in Pakistan, offering convenience and easy access for parents.
To sum up, Pampers Diapers are the best diapers in Pakistan. This is the list of Top 10 best diapers in Pakistan. 

Being a parent it is your responsibility to make sure that your child's diaper is good for your child and also for his health. 

You can also tell your thoughts about this Article in comments.